TL555-142 LED Totem is the ideal medium to communicate with passerby in a dynamic and flexible way.
With a cluster controller, the LED displays can be changed the videos or photos by mobile phone or computer in real-time.
Ideal replacement for static citylight poster as street furniture thanks to its unrivalled performance of lighting effect resulted from dynamic contents and remote intelligent cluster control.
Higher in brightness level and larger in size, this series of floor standing totems is also replacing LCD version at outdoor application and widely installed at the entrance of supermarket, shopping mall, restaurant, and bus stop. 102", 114" and 142" version are among the most best sellers in our portfolio.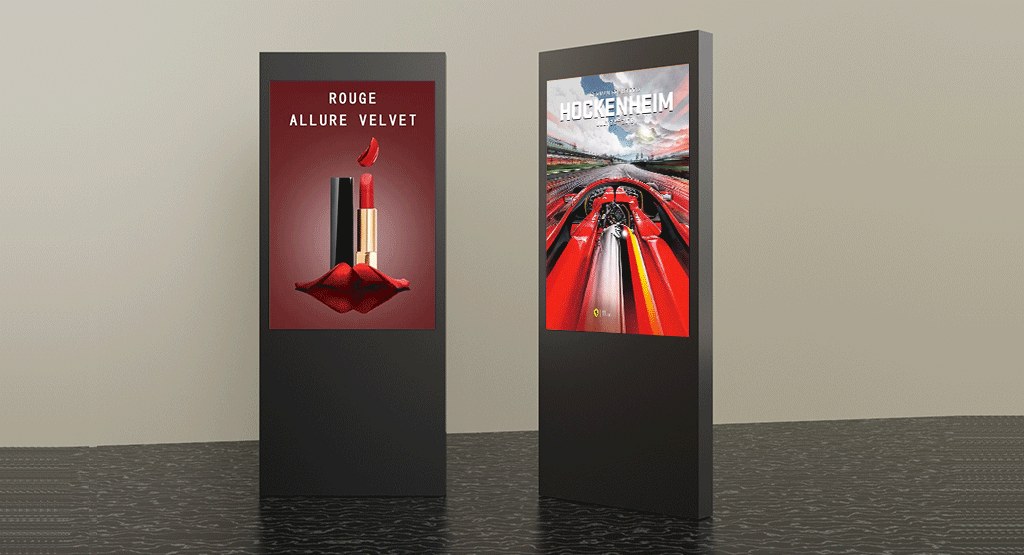 Excellent Outdoor Display
LED Totem uses 142″ display based on high resolution LED module. This high brightness 7000 CD/㎡ screen has a full HD 360 x 540 resolution and 14bits grey scale to help your images stand out and delivers clear crisp images.
When the passengers are watching the images from say 20-50m away in a car, the viewing effect will be excellent .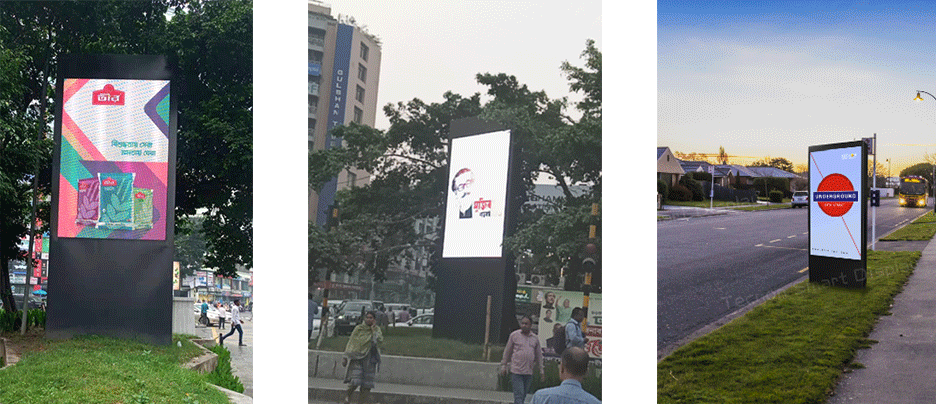 Details of the screen
This is a overall image of the whole structure. This is a highly intelligent screen with many high tech parts and components. We are making the best use of room inside this cabinet.
Hereby I would like to introduce the several important parts in this system:
We can start from the left side:
Fans on the top: this is a quiet tailor-made fan. It's a temperature controlled fan. 5V, totally 4fans in this screens. Each fan has a temperature sensor. Only when the sensor detects the temperature inside the cabinet is higher than 30°C, will the fan start to work. The higher the temperature, the faster it will run. But when the temperature is lower than 30°C, it will stop running and remain at rest. That means in the morning time, or in the winter time, when it's cold outside, these fan do not need to be always running. Therefore, these fans have a much longer life time compared with the conventional mechanical fans which will be running 24hours a day.

LED Totem for high-speed rail station has a great application for information, user guides, maps, and advertising.
The flexibility of LED means that content can be updated easily, and the stable signal works for high-speed rail station with high traffic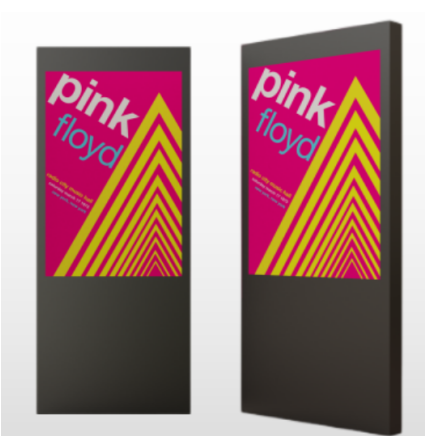 Projects: