TL384-88 this LED wall screen in landscape type is born for building facade and roof above the door of convenience store, an ideal replacement for static painting fabric poster by offering dynamic full color advertising at retail stores, attracting customers attention at 24/7 time.
Video clips of commercial advertising like coffee, snack, drinks can be managed and played in a loop seamlessly thanks to the large display area of 88".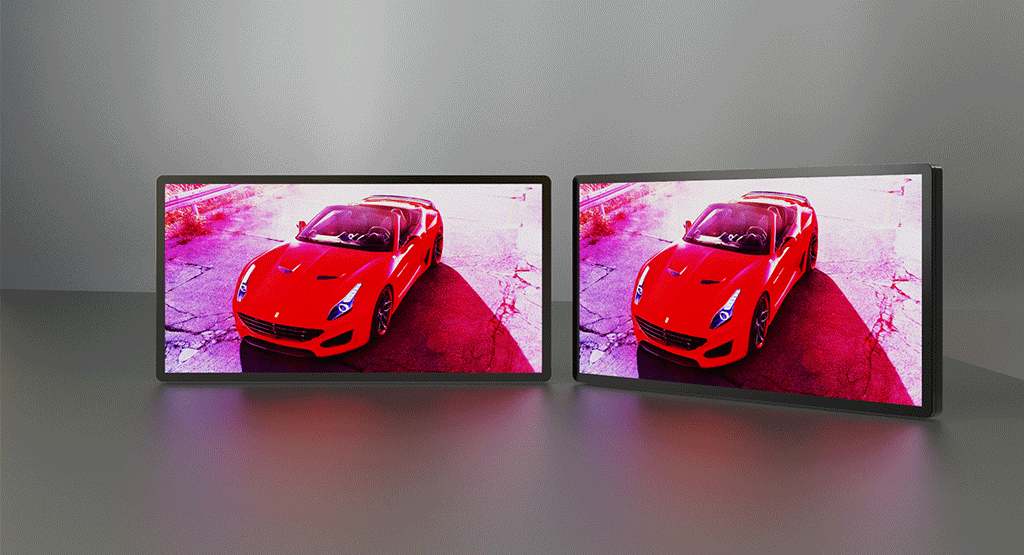 Due to the experience people have made with television, they are used to seeing LED display which makes landscape monitors even more of an eye-catcher.
In an aluminum frame, the display is ultra-light in weight, with a simple and beautiful appearance.
Unlike the LCD display with highest brightness 2500nits, this outdoor LED display can provide image contents in 7000nits readable even under direct sunshine and even from long distance.

Single-sided LED Wall Scree
High brightness & High resolution, highly visible even under the sunshine and from long distance
Fully networked for remote control
Waterproof design, IP65
Smart light sensor & brightness adjustment, energy-saving
Ready made product easy for installation, a turnkey solution

Advantages compared to traditional fabric painting display/ traditionally lit signs:
1.4H and 1W (high brightness, high resolution, high contrast ratio, high refresh rate and wide viewing angle) make more dynamic brilliant full color images
Our digital wall screen with superior luminance up to 7000nits, P3.846 LED SMD large screen, high-contrast color more vivid images, high refresh rate up to 3840Hz, and wide viewing angle 0-160° for both horizontal and vertical, all these together build up a visual feast. Replace your conventional printing signs with our digital one, to wow your customers and the passersby with the stunning images you'd like to display.
2.Further viewing distance
More than 150 meters, and even further at night up to over 2000m. For printed fabric advertisements, only 50-100 meters during the day and 20-50 meters at night, more difficult to notice and read advertisement information. With high brightness, our LED lanscape screen wall is also highly visible even during the day time under the sunshine.
3.Displayed contents can be easily changed
When updating, traditional printed signs need to be taken the whole down and replaced with a new one. While our digital wall display connected with 3G/4G/WIFI, controlled by your mobile phone/ tablet /computer and you can change the videos displayed on the screens while just sitting in the office and enjoying a cup of coffee, no labour costs or additional installation costs.
4.Custom advertising as market shifts
The ease of changing the displayed contents makes our digital signage the most efficient and practical advertising strategy on the market. Customize your screen with your latest taste of coffee, dishes and style of jewelry, clothes design, even shifts of weather conditions and big events. This LED wall kiosk enclosure can always reflect the shifts in fashion and customer liking trends, changed as rapidly as needed while the traditional signs staying delayed and static.
5.It motivates impulsive buying
LED outdoor wall kiosk representing more dynamic and vivid images, grabs attention in a compelling way even from a long distance, which attracts impulsive buyers and sparks their desires to buy. An efficient promotion way to attract traffic for your company.
6.Low maintenance cost
Our digital wall signage has higher initial cost, but little continuous expenditure on the follow-up, with no replacement cost, low maintenance and repair cost. Also durable with modules that last over 100,000 hours and waterproof UV-proof cabinet professional for outdoor use, while traditionally lit signs need the bulbs replaced regularly and the printed signs updated manually.
Installation: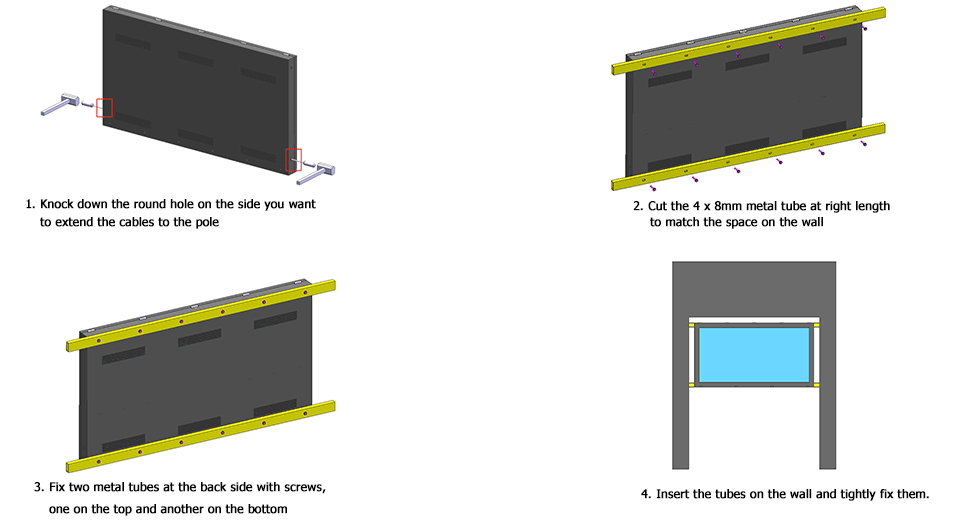 Application:
Our wall LED billboards are shining in retailers, shopping mall, plaza, chain stores, super market, cinema entrance, TV station, exhibition, metro station, airport, hotel, gas station, etc.
Installation Method:
to be mounted on the wall/ to be hanged below the ceiling.