TL256-46 Inch is an ideal replacement with dynamic digital contents to the traditional LCD display.
With the width/height ratio of 1.7, video clips originally designed for LCD can be played on it without further adjustments.
LED totem uses a choice of 46″ display based on high resolution LED module.
This high brightness 7000 CD/㎡ screen has a full HD 234 x 390 resolution and 14bits grey scale to help your images stand out and delivers clear crisp images.
LED Mobile Totem is the ideal medium to communicate with passerby in a dynamic and flexible way.
Whether you work in retail, leisure, hospitality, or are looking to breathe new life into a reception area, a digital signage LED mobile totem will not only catch attention, but they also impress your target audience and show your brand in a positive light.
LED mobile totem can be used to show either image slideshows or videos, and can even support both.Settings on the Digital Display Totem allow you to loop your presentation, or set an on/off timer so it only plays during your opening hours.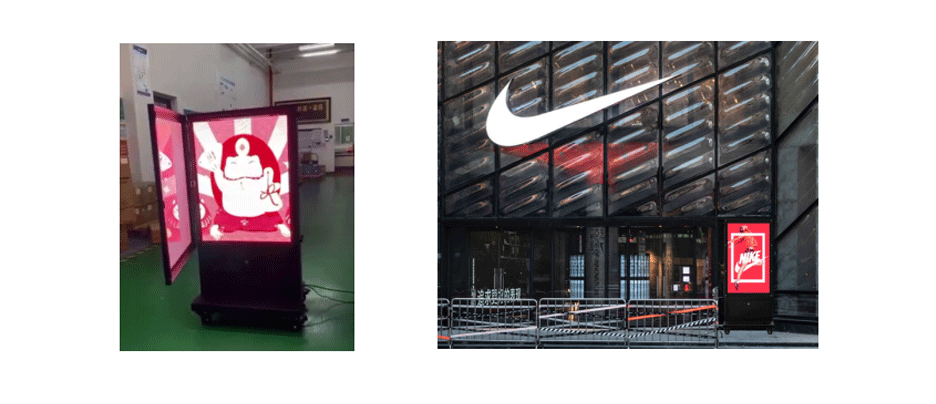 Mobile LED Totem has an aluminum frame, the display is ultra-light in weight.
Installation
Add braking wheels to the base of your unit to make it easier for you to move around your business when required.The product's display is 46'' which is suitable for most stores and shops.
Design
Fashion design with prefect finish with durable coating makes the LED Mobile Totem more attractive in appearance.

High brightness & High resolution, highly visible even under the sunshine and from long distance
Fully networked for remote control
Waterproof design, IP65
Smart light sensor & brightness adjustment, energy-saving
Ready made product easy for installation, a turnkey solution