At the end of 2019, in order to celebrate the 100th anniversary of Bangladesh's founding father, Sheikh Mujibur Rahman, the customer in Bangladesh purchased four LED totems from Tecnon Smart Display and installed them on the Gulshan-2 Circle in Dhaka, the capital of Bangladesh.
This sites is VIP area with convenient traffic and a continuous stream of pedestrians. All Foreign embassies are located at this site. In particular, the traffic fortress is surrounded by buildings in a circle.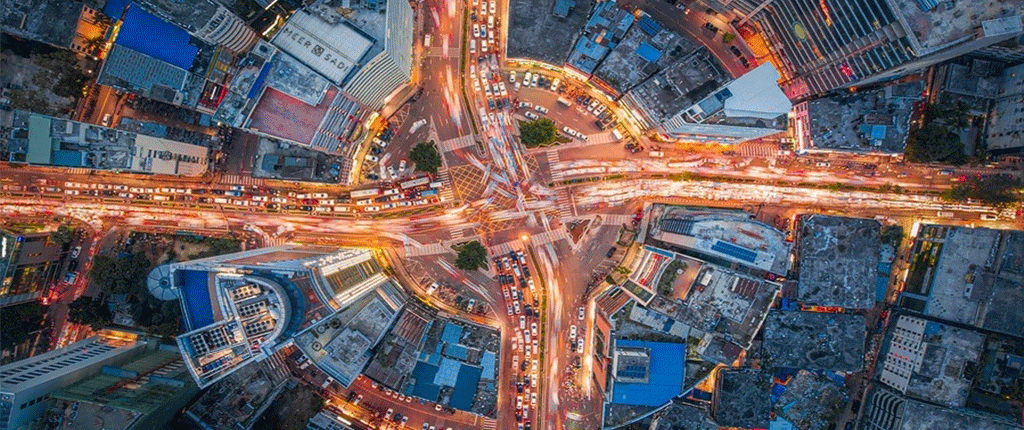 After various researches, Tecnon Smart Display designed an unparalleled solution to the customer according to their needs and installation location. Tecnon Smart Display recommended a large sized single-sided floor standing LED Kiosk made of galvanized steel with the display size of 2000 x 3000mm, roughly as 142 inches display. There are four in total, installed in four flower beds around the circle.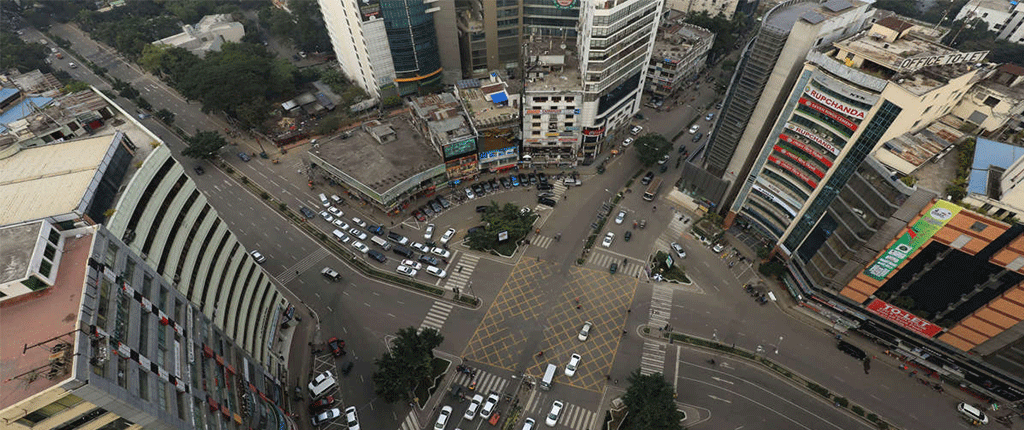 LED totem is an ideal medium to communicate with passersby in a dynamic and flexible way. It is also an ideal replacement for static poster as street furniture thanks to its unrivalled performance of lighting effect resulted from dynamic contents and remote intelligent cluster control.
This series of floor standing signs with higher brightness and larger size has also replaced LCD version at outdoor application and widely installed at the entrance of supermarket, shopping mall, restaurant, and bus stop. The 102'', 114'' and 142'' version are among the most best sellers in our portfolio.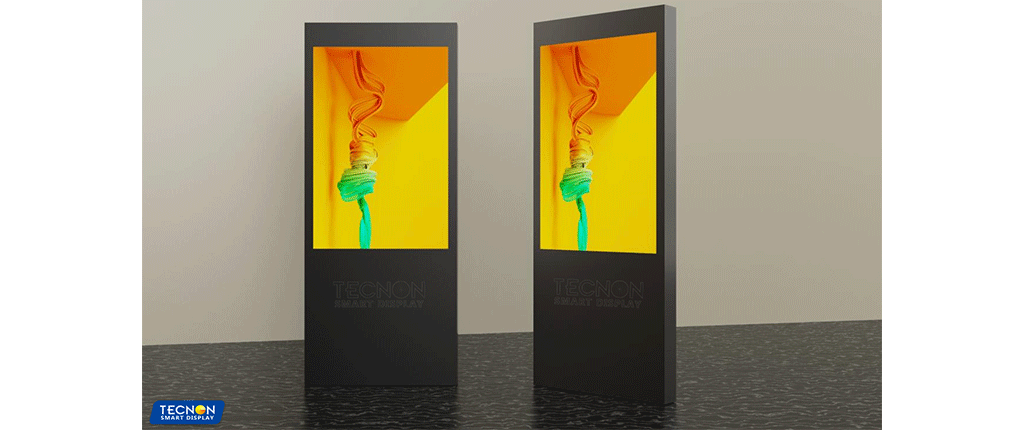 The customer present one of them should be with amplifier and audio function to initiate audio broadcasting in case of emergency. Tecnon Smart Display immediately invested in the production of LED totem, and completed the assembly in the fastest time. The four LED totems were successfully packaged and shipped on January 18, 2020.
The LED Outdoor Portrait is 2305mm high, 5700mm wide, and 1300kg weight. To ensure the safety of the products, Tecnon Smart Display specially used cranes and open top container used for transportation.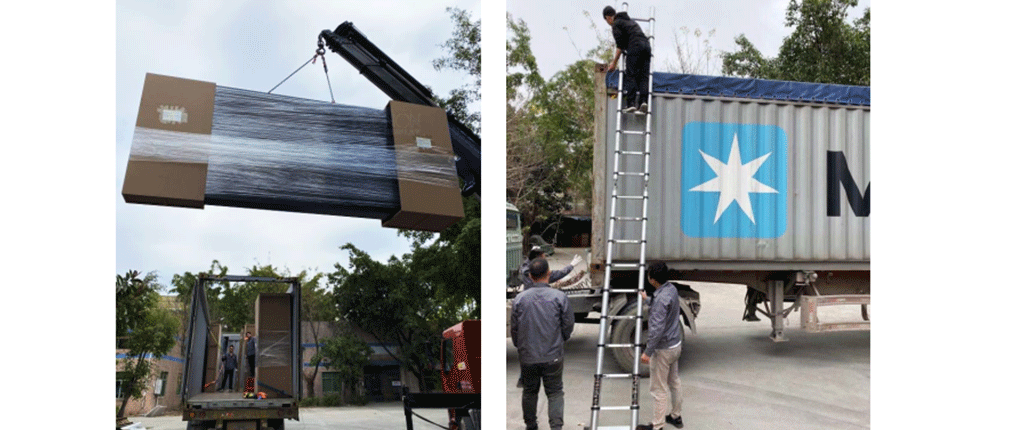 On February 21, 2020, the four LED totems arrived safely in Dhaka, Bangladesh and were installed on site at Metropolitan Shopping Plaza, QCW7+2FX, Kemal Ataturk Ave, Navana shopping Mall 160 Gulshan North Ave, Doreen Hotels &Resorts/Doreen Tower 6/A North Commercial Area immediately.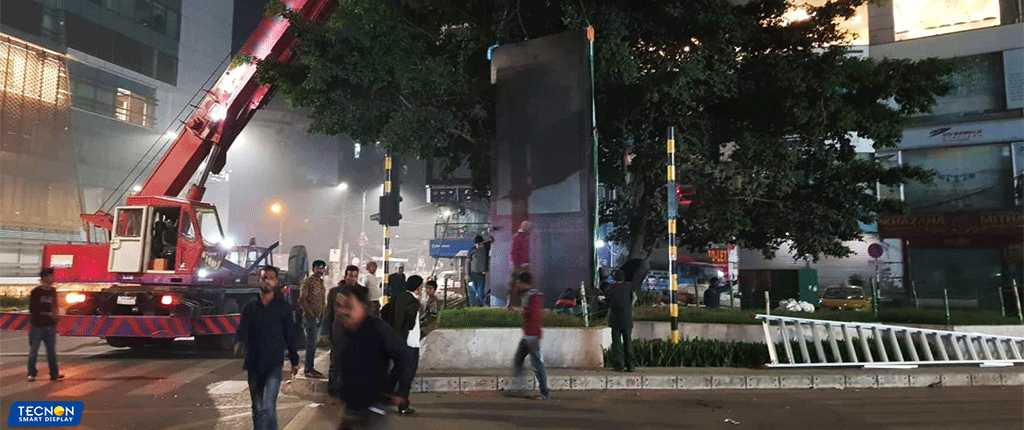 The LED Outdoor Landscapes are ready for plug and play. With a cluster controller, the LED displays can be changed the videos or photos by mobile phone or computer in real-time.
The customer transmitted the promotional images of the 100th anniversary of Sheikh Mujibur Rahman to the LED displays through the computer, and the passing drivers and pedestrians could see the display picture from 30 meters away. They praised the clear display screens and expressed their memory of t the founding father of Bangladesh.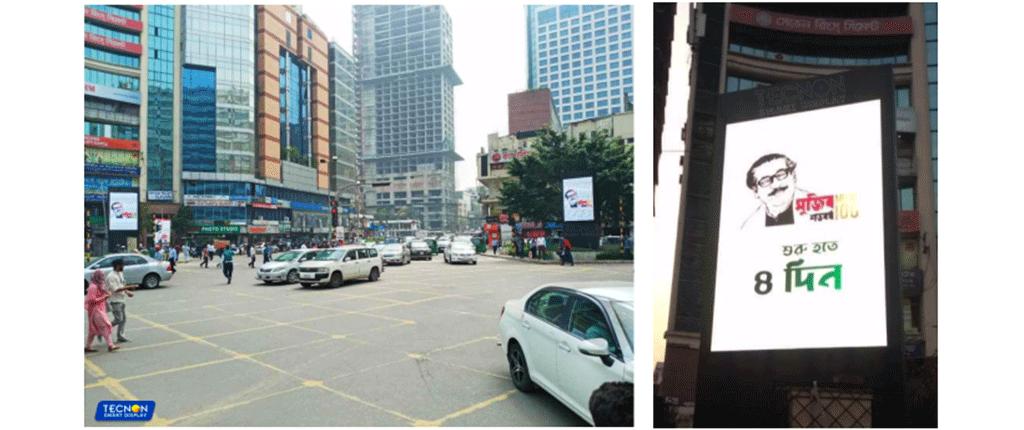 After Sheikh Mujibur Rahman's anniversary, free standing digital sign also attracted many advertisers to launch advertisements. In this prime location with excellent traffic flow, advertising can play an important role in publicity, and it will continue to bring benefits to customers in the future.